Sandra has been published in an interesting range of venues starting in 1982, specifically focused on raising Yorkshire Terriers and the Care of Toy Dogs. Eight years of her research led to bacterial studies related to Dog Breeding and infertility—Zoonotic Diseases. She lectured for approximately 14 years in both the US and Canada regarding "Bacterial Safeguards."
Over subsequent years she expanded her knowledge and nurtured another passion that she was driven to follow—pursuing Entrepreneurship. She has started and owned nine businesses from several Sole Proprietorships, four Corporations and an LLC (Limited Liability Company).
Sandra is the Founder of "Coat Handler" aka Senproco, Inc. pet care products starting in 1985. These products are still being sold worldwide. She is an accomplished manufacturer of premium products sold in international markets for over twenty-five years.
"Form, Function & Fancy" is her first book, Self-Published with contributions from Kristen Dickinson in 1996. It is focused on a Microbiology study covering eight years to educate people about Zoonotic Diseases and the Fading Puppy Syndrome. It documented her studies on Staphylococcus Aureus which took twenty years to finally become known as MRSA. It has been sold around the world to breeders and Dog Show Exhibitors for over 20 years.
"Yorkies Head to Tail" was published in 1999 by Paper Chase Press as her second release. This book is commonly known as "The Yorkie Bible."
In 2012 she introduced "E-Girls" Entrepreneurial Women," first edition, published by West Bow Press and began striving to share 32 years of business experiences and expertise with a female audience that is yearning to venture into their own businesses.
After attending Pima Community College in Tucson, Arizona in 2012-2014 at age 66, she knew she needed to offer an updated version of her last work. She recently released, "E-Girls Entrepreneurial Women—REVISED EDITION" published in 2018 by Book Art Press. She is only able to satisfy her desire to educate by writing about her experiences and reaching out a helping hand to other women who have a 'DREAM'.
Her latest work is her first memoir, "If Only I Could Read MY MIND," recently released. This is her own story of "The Battle to Reinvent Yourself" after her brain injury in 1998. It shares the real issues of dealing with permanent brain damage and finding HOPE in your recovery.
She is working on several future works that will entertain, inform and amaze you while weaving her personal stories into narrative storytelling. Her writing is always nonfiction, full of creative narrative attractions and that has not changed. Teaching by way of storytelling has always been the undercurrent driving force that motivates her 'heart's desire' about many of the different phases of her life experiences.
Available Dec 14, 2018
E-Girls REVISED
Entrepreneurial Woman
This writing has lots more good advice to share with women who have a dream to be an Entrepreneur. It has updated material for business structures, advice from CPA's, updated IRS regulations and of course more stories. As the world continues to change, laws change, everything is moving faster and mistakes can have greater consequences, I hope this book will become your best friend. That said, I hope this newest version is even more helpful and has more advice to offer.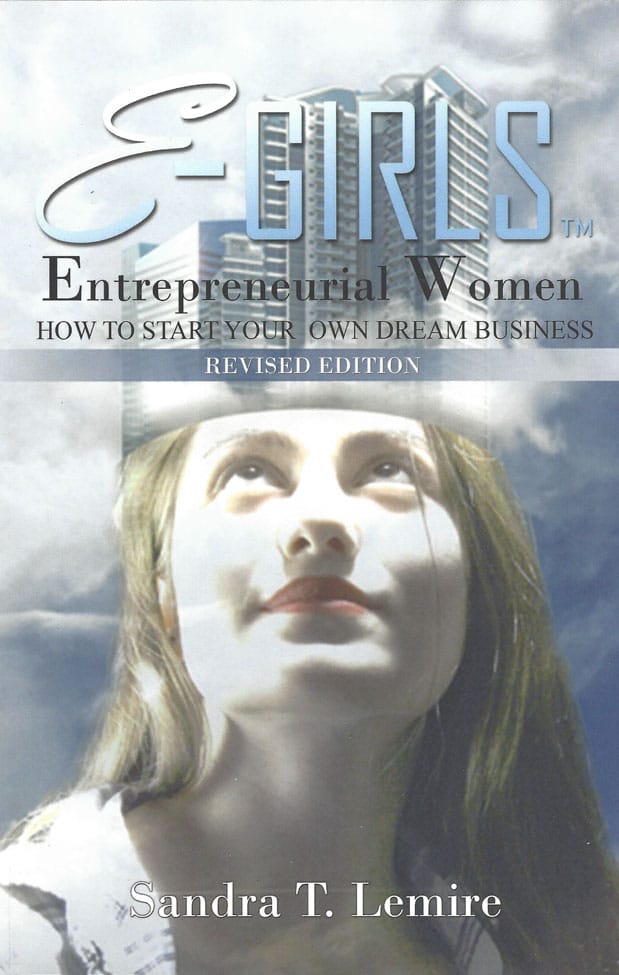 A Book of a Dream or Business. Also, a Book of learned experiences.    I had the chance to review "E-Girls – Revised Edition" both as a male who has three daughters and six granddaughters.  
The book reads as a Bible of the do's and don'ts, both in business and life.
As a father, I see so many changes or problems which can come about in the daily lives of daughters.  Sometimes I had answers. There were other times, they were, from my standpoint, "on their own." After reading E-Girls I realized there is a book that can offer them guidance both in life and in any business venture they want to explore.  
Issues are discussed where you can avoid mistakes that are made every day in the business world that can destroy your dreams and can become irreversible problems in your family life.  The answers are there. What to prepare for, how you can avoid even issues you did not know you were about to encounter. 
I am very excited to share with my daughters and granddaughters what I saw here as a father and grandfather. A book that can guide them and alert them before mistakes are made that can cost them dearly, involving their dream. 
I also found answers to questions I had no understanding about.
E-Girls Entrepreneurial – Revised Edition